1
'Wishing You A Cool Yule' CARD
Uploaded by Frank Pellow , Dec 01, 2016 01:56 AM
Pattern Designer
Frank Pellow (with thanks to 'bobscroll' for the snowman)
Terms of Use:
Patterns are free for personal use. Copyrights and distribution remain with the pattern designer. Pattern usage for commercial purposes must be agreed on by the original designer and interested party. All agreements are made between the two parties and in no way affiliated with Scroll Saw Village.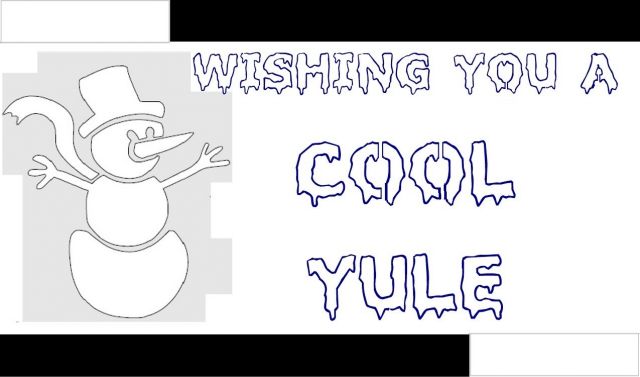 This is a variation of the pattern used to make a plaque.

The black rectangles are to be cut away after assembling the foreground and backer boards.

A card made of this size will fit into a 9 inch by 7 inch padded envelope that can be purchased relatively cheaply in bulk from most stationery stores.

I cut the foreground from 3mm thick Baltic birch plywood and the backer board from 2mm thick clear pine.

The assembled card together with the envelope, an A4 sized sheet of paper, and two Velcro strips (to be used to display the card) weighed 92 grams. In Canada, at least, one gets a much better postal rate if the thing being mailed is under 100 grams.
'Wishing You A Cool Yule' CARD